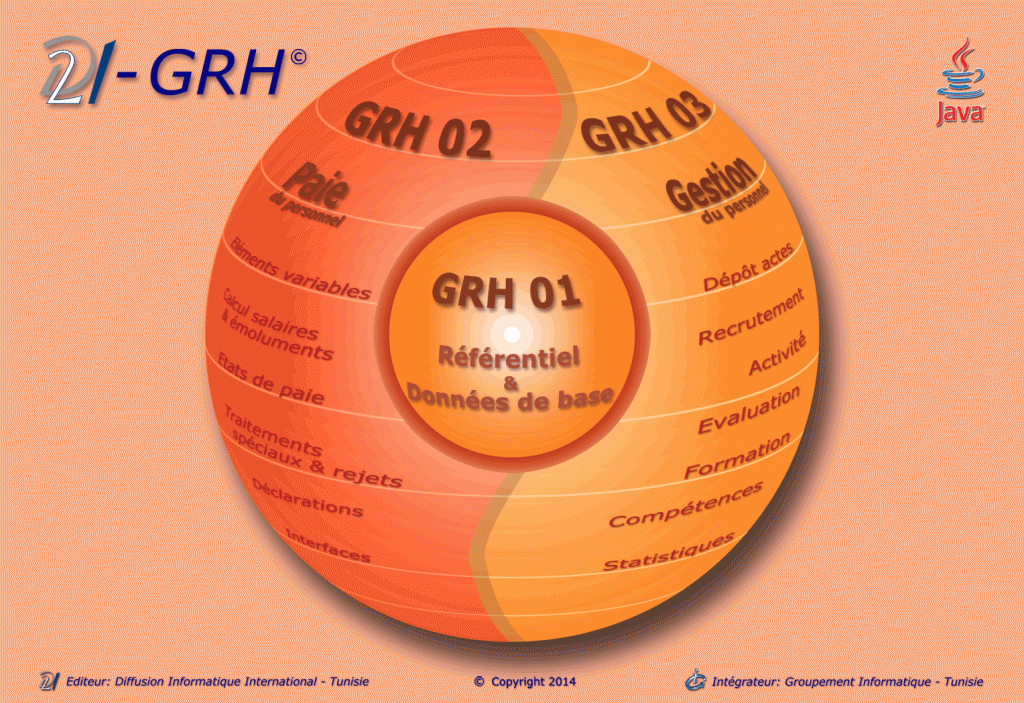 HRM HUMAN RESSOURCES MANAGEMENT
This software is geared with tools strong enough to MANAGE the HUMAN RESOURCES AND PAYROLL SYSTEM. It includes the functionalities needed to handle the personnel career management procedures and to automate all the processes carried out, from recruitment to retirement.
It meets the BPM standards (Business Process Management) and takes up career events from origin based on acts and documents, with the possibility to interface with the Documents Electronic Management.
Automated functions are of several types :
Data management, handling of usual statements (career and payroll) in three variations:  financial, accounting and budgetary, as well as the control functions of HRM intended for decisions makers (statistics, charts, etc).
D2I HRM & PAYROLL   System is built up around the CENTRAL CORE: General Repository and personnel codes stocked in a database which parameters are developed off-program.
The system integrates the other two applications :
HRM-02 PERSONNEL PAYROLL
Processing the set-up and the payment of salaries :
Upload and automatic take up of variables elements.
Calculation of different types of salaries and back-pays.
Print of payrolls and salaries statements.
Production of tax & social returns.
Set-up, sequencing and settlements.
Handling periods and closing.
HRM-03 CAREER MANAGEMENT
This application takes up processes and different events from origin :
Management events: Recruitment, transfers, promotions, assessments, retirements, etc.
Social events: Status changes, births, deaths, etc.
Activity elements: Attendance and absence, leaves, etc.
Side events: Hospitalization, transport, etc.
Besides these three applications which are natively integrated via internal interfaces with career management when changes occur, the system enables external interfaces with pensions, budgetary and accounting management, taxes department, etc.
Like all of our ERP Systems developed with J2EE tools, this program complies with the standards of security and provides for as many workflow phases as necessary.